On May 29, 2011, our Season Opening Weekend, the Boston Globe published a glowing write-up of the National Museum of American Illustration (NMAI) and our Norman Rockwell: American Imagist exhibition by the noted Pulitzer Prize-winning critic Robert Campbell.



Campbell succinctly summarizes the genesis of the Museum, details of Vernon Court (the Gilded Age mansion housing the collection), the definition of illustration art and the role it played in American history, and the virtues of the genre. He further discusses our current Norman Rockwell exhibition's enthusiastic reception at London's Dulwich Picture Gallery prior to its return to Newport for the summer. All this and the added exhibition entitled In Our Time, showing illustration artworks by noted author and illustrator Tom Wolfe.


Campbell's text follows below: One can also read the article on the Boston Globe's website by clicking here.


______________________________________________________________________________

NEWPORT, R.I. - It's one of my favorite museums in New England, or anywhere for that matter, yet hardly anyone has heard of it.

Imagine a beautiful formal gift box which, when you open it, turns out to be filled with wonderful toys.

That's the best way I can think to describe the National Museum of American Illustration here.

The gift box is the museum building itself. Known as Vernon Court, it began its life in 1898 as one of the great mansions, or so-called "cottages," on Newport's famous Bellevue Avenue. The toys inside are hundreds of works by the so-called American Illustrators - artists who created images primarily for publication, as illustrations in books, magazines, or advertisements. Norman Rockwell is the best known.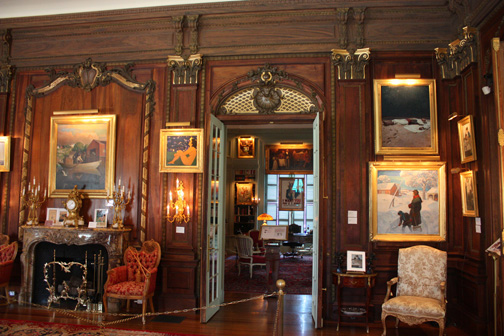 Grand Salon with Library beyond
Let's start with the building, which opened for the summer season this weekend. Vernon Court is a classic example of the kind of architecture that pleased newly rich Americans who were trying to live like the aristocrats of Europe. It's an imitation of an 18th-century French country chateau. The architects, Carrere & Hastings, were second only to McKim Mead & White among the architects of what Mark Twain called "the Gilded Age." Among the firm's other gems are the New York Public Library and the Frick mansion, now a museum on Fifth Avenue.
The house itself is worth the visit. Pure white in color and looking like rare marble (actually it is white paint over smooth stucco), it immediately suggests a kind of innocence often sought by the heirs of the robber barons. It is as if the immaculate architecture were saying, "My hands are clean."
South Loggia with Tiffany Murals and Illustration artwork
Indoors, the highlight is a garden pavilion, once open-air but now enclosed in glass, in which the walls and ceilings are covered with Tiffany murals of birds and cupids cavorting among pergolas and greenery.
The house, like other Newport mansions, was intended as an enduring family seat but soon fell into decline. It was vacant when, in 1998, it was purchased at a bargain price by Laurence and Judy Cutler. They filled it with their personal collection of American illustration art and opened it as a public museum in 2000. The Cutlers still run the museum themselves, full time and more. There is no advertising budget.
Petit Salon derived from Marie Antoinette's private suite at Versailles
For anyone who loves the art of the American illustrators, this museum is a feast. The Cutlers define "The Golden Age of American Illustration" as 1850-1950, an era before the omnipresence of photography. It was a time when the best way to help a reader visualize a scene, in a book, magazine, or wherever, was to hire an artist and publish a picture. Illustration was a vernacular art, a practical art, not a self-consciously fine art, and the highbrows looked down on it. But it certainly had its masters.
Ballroom with Rose Garden Loggia beyond
No fewer than 148 artists are listed in the catalog. All of Rockwell's 322 actual printed covers for the Saturday Evening Post magazine are here, each handsomely framed. These are images that don't need a text; they tell a story by themselves. The Post was a magazine that once was in almost every American home, the way a TV is today.
Mural panel (1 of 18) from Parrish's Florentine Fete series, in Rose Garden Loggia
There are dozens of original Rockwells in oil, too, as well as original works by the other great names, most now forgotten, of the illustration movement. They include Maxfield Parrish (whose most popular image, "Daybreak," is said by Cutler to have once adorned a fourth of all US homes, and whose 17-foot-wide mural, "Florentine Fete," is one of the museum's masterpieces), N.C. Wyeth (whose most popular illustrations for boys' books make a fascinating contrast to the frozen, understated works of his son Andrew), Charles Dana Gibson (inventor of the fashionable Gibson Girl), James Montgomery Flagg (who did the "Uncle Sam Wants YOU" recruiting poster), Howard Pyle (founder of the first school of illustration), Thomas Nast (editorial cartoonist), Frederic Remington (western art), and many more.
Whatever you think of the work as art, and I like a lot of it, it's impossible not to be impressed by the command of craftsmanship. Rockwell and others studied at fine art academies. Some of the best things in the museum are Rockwell's painstaking black-and-white charcoal studies for what later became finished color paintings.
Last year the museum sent an exhibition, "Norman Rockwell's America," to the Dulwich Picture Gallery in London, normally a venue for traditional art. How did the Brits react to what the Cutlers call "the most American of American art"? An e-mail to the Globe from Ian Dejardin, the Dulwich's director, says the show went "triumphantly well," that it got a lot of press ranging from the "ecstatic" to the "dizzyingly snobbish," and that it drew the third highest attendance in the gallery's long history.
Some of that success may be the result of the Noble Savage tradition, in which intellectual Europeans are often fascinated by American folk heroes such as cowboys and gangsters. I suppose the illustrators can be seen that way, as home-bred, do-it-yourself creators, as opposed to the snotty world of academic art.
"Rockwell's America" is back in Newport now, where it will
remain all summer. Also on view, besides the permanent collection, is an exhibition of cartoons and caricatures by the writer Tom Wolfe. Wolfe gave a talk at the museum last year in which he praised illustration and dissed contemporary art.
Some people, as Dejardin notes, are snobs about illustration art. They think it is too popular, too sentimental. That was especially true in the heyday of modernist abstraction in the mid-to-late 20th century. Since then, though, there has been a revival of interest in the vernacular in almost every field of art, music, and literature. At Harvard there is now a course on Bob Dylan. And the high price to date for an original Rockwell oil is a respectable $15.8 million.
Tom Wolfe delivering speech on virtues of illustration at the NMAI's 10th Anniversary Gala, July 29, 2010
It is well to remember that many famed artists, from Winslow homer to Andy Warhol, began their careers as commercial illustrators. And some greats in other fields, say Shakespeare and Dickens, were regarded largely as pop artists in their day. Neither hesitated to present characters that were cartoon spoofs of reality. And of course an artist such as Japan's Hokusai (1760 - 1849), like the American illustrators, created work primarily to be reproduced.

The museum has its own fan club. Among its members are filmmaker George Lucas, Yale historian Vincent Scully, actress Whoopi Goldberg, and former Globe cartoonist Paul Szep, all of whom are trustees or advisers.

Illustration art fell victim to the rise of other media. It's fascinating to remember it or discover it, depending on your age, at Vernon Court.

Works by J.C. Leyenecker (top) and Norman Rockwell (bot.) in Petit Salon

_______________________________________________________________________________



Popular Norman Rockwell Show Returning to Newport

Providence Journal, 5/22/11:
The Sunday, May 22, 2011 edition of the Providence Journal published an article written by Art & Architecture critic Bill Van Siclen announcing our May 28 season opening, quoting NMAI founders Judy and Laurence Cutler on the return of our Norman Rockwell exhibition to Newport, and the Tom Wolfe exhibition also on display.

Van Siclen's text follows below. One can also read the article on the Providence Journal website by clicking here.

_______________________________________________________________________________



NEWPORT - How popular is Norman Rockwell?

So popular that the National Museum of American Illustration is doling out a second helping of "Norman Rockwell: American Imagist," a 2009 exhibit that featured more than 50 paintings, drawings and other works by America's best-loved illustrator. The show, which recently returned from a record setting run in London, opens May 28 at the museum's Bellevue Avenue headquarters.




"It's been so popular that we had to bring it back," said museum co-founder Judy Goffman Cutler. "The show has been traveling for the past year - most recently to the Dulwich Picture Gallery in London. So we're looking at this as a kind of encore performance in Newport."
Visitors at Dulwich Picture Gallery, London, viewing Rockwell's Russian Schoolroom

Cutler said the show shattered attendance records at the Dulwich, which opened in 1811 and is considered England's oldest public art gallery. "Day after day, people were lined up around the block," she said. "The curators at the Dulwich said they'd never seen anything like it."
The illustration museum, which owns works by Maxfield Parrish, N.C. Wyeth and other illustrators as well as Rockwell, contributed the bulk of the show's artworks. Other pieces are on loan from private collections. Among the highlights: Rockwell's first-ever magazine cover (a simple fishing scene created for a forerunner of Field and Stream); "Bridge Game - The Bid," a dizzying overhead view of card players that's among Rockwell's most intricate creations; and several paintings from Rockwell's later years, when he took up causes such as civil rights and school desegregation. "Basically, there's something from every stage of his career," Cutler said.
The Bid. Norman Rockwell, 1948
Tom Wolfe works on display in Lower Level Gallery 1
In addition to the Rockwell show, the museum is hosting a small exhibit of drawings by Tom Wolfe. Though best known as an author, Wolfe, whose books include "The Electric Kool-Aid Acid Test" and
"Bonfire of the Vanities," is also a talented cartoonist and caricaturist.
"It's a side of Tom that most people don't get to see," said Cutler.
The Man Who Peaked Too Soon. Tom Wolfe, 1979
"Norman Rockwell: American Imagist" and "Tom Wolfe: In Our Time" open Saturday, May 28 at the National Museum of American Illustration, 492 Bellevue Ave., Newport. Museum hours (as of May 28): Sat. 11-5 and Sun. 11-5 for general admission and for a 3 p.m. guided tour on Fridays; all other times are by reservation only. Admission: $18 adults, $16 seniors, $12 students with ID and $8 ages 5-12. Contact: (401) 851-8949, ext. 18 or www.americanillustration.org.
________________________________________________________________________________



Three New Advisory Board Members


During the past six months, NMAI added three distinguished persons to our Advisory Board. An illustrious grouping with wide-ranging expertise, education, and cultural interests, the members are formidable amongst museums and cultural institutions for their influences on American culture. We are pleased to announce the addition of these members.


Lady Lucinda Lambton, International Council Advisory Board member is a writer, broadcaster, photographer, celebrator of the architecturally curious, and wife of noted journalist and social commentator Sir Peregrine Worsthorne. Among the 80 films she has written and presented, 55 were for the BBC, including Old New World, a series on American architecture; and 25 films for Britian's ITV including Sublime Suburbia (UK's best documentary series of 2003). She was the subject of a BBC half hour special portrait. She has taken photographs for and written 16 books, ranging from architecture as varied as a history of the lavatory in Temples of Convenience, with toilets dating from Roman to modern times, to Palaces for Pigs, revealing delights such as pyramids for poultry, castles for salmon, and memorials to rats, fish, and a robin. Mark Twain's mother was a Lambton relative, and his cousin William Lambton was the inspiration for Huckleberry Finn. She lectures for Britain's National Trust at The Royal Festival Hall, the Royal Oak Foundation, and the National Arts Collection Fund at the Royal Geographic Society. As for American Illustration, the mere thought of it "sends my spirits soaring to the skies."
Lloyd Greif, National Council Advisory Board member, is President and CEO of Greif & Co., which he founded in 1992 following a successful investment banking career as Vice Chairman of Sutro & Co. Incorporated, the oldest investment banking firm in the West. Greif & Co. provides financial advisory services for middle-market growth companies. Renowned as The Entrepreneur's Investment Bank, Greif & Co.'s creed is intelligence, strength, wisdom, aggressiveness, and integrity. Mr. Greif holds a BA from UCLA, MBA from USC, and JD from Loyola Law School. He has received the Entrepreneurial Spirit Award from the Boy Scouts of America, the Corporate Excellence Award from Loyola Law School, and is Chairman of the Board of Directors of the Los Angeles Police Foundation, past Chairman of the Los Angeles Economic Development Corporation, a member of the Board of Directors of the California Chamber of Commerce, a member of the Board of Directors of USC Associates, a member of the Board of Trustees of the Florence Academy of Art, a member of the Board of Overseers of Loyola Law School and benefactor of the Lloyd Greif Center for Entrepreneurial Studies at USC's Marshall School of Business. He is an internationally recognized authority in the field of mergers, acquisitions, and corporate finance and has a great and deep-seated love of illustration art.
Gene J. Brockland, National Council Advisory Board member is Partner in the noted law firm of Herzog Crebs LLP of St. Louis, MO. He holds a BA from the University of Virginia, and a JD from Washington University School of Law. Mr. Brockland has practiced law for over 25 years primarily in commercial and civil litigation, and represents artists and arts organizations, including non-profit foundations. He has tried numerous cases in state and federal courts throughout the nation. His interest in American illustration art was piqued by his successful handling of the famous Russian Schoolroom case, resolving an ownership dispute concerning a stolen Norman Rockwell painting once owned by Steven Spielberg in the 1980s. As a result of that case, the painting is part of the NMAI collection. Mr. Brockland replaced late NMAI National Council Advisory Board member Martin S. Bressler, Esq., founder of the Visual Artists Gallery Association (VAGA). Mr. Bressler set as a precedent a very high standard in his role as Advisory Board member; one which Mr. Brockland has excelled in meeting.