NMAI SUMMER 2010 SEASON
BEGINNING MEMORIAL DAY WEEKEND
MAY 28, 2010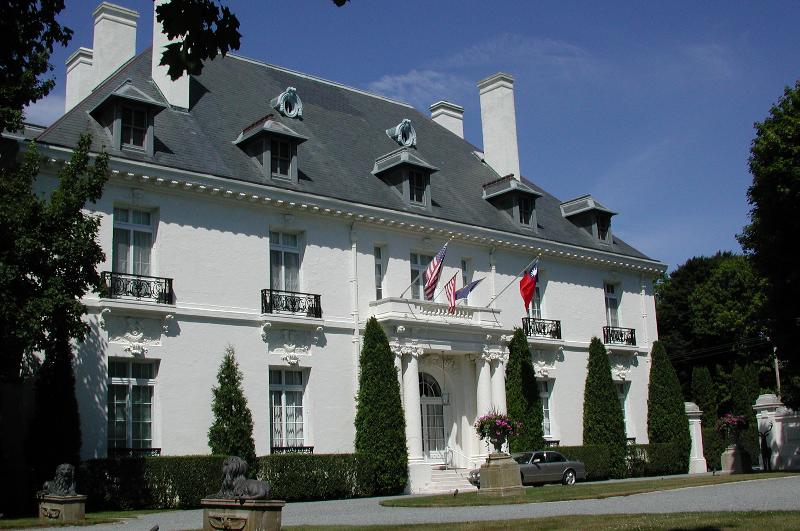 Our 2010 season begins this Friday, May 28, and ends on Labor Day, September 6th.
During this period, we will be open with no reservations required for Self-Guided tours on Saturdays and Sundays: 11:00am to 4:30pm. Each Friday, a 90 minute guided tour will be given at 3:00pm sharp.
As always, the museum is open year-round for guided group tours and VIP tours by advance reservation. For reservations, please call 401-851-8949, ext. 18
In recognition of the ongoing economic crisis, we have maintained our dramatically reduced Admission Fees from 2009.
Adults:

$18
Seniors (60+)/Military with ID:

$16
Group Rate (10 or more):

$15
Students:

$12
Children Ages 5-12yrs: $8

We Look Forward to Your Visit!



* * * * *



NORMAN ROCKWELL: AMERICAN IMAGIST SHOWING AT THE PAINE ART CENTER
IN OSHKOSH WISCONSIN


Above:
Volunteer Fireman
, by Norman Rockwell. oil on canvas, 1931
From June 5 to September 6, 2010, the NMAI exhibition

Norman Rockwell: American Imagist

will be on display to the public at The Paine Art Center in Oshkosh Wisconsin. This exhibition was organized and loaned by the NMAI, along with the American Illustrators Gallery, NYC.

Previously exhibited at the Naples Art Museum in the Philharmonic
Center for the Arts in Naples, Florida, the NMAI in Newport
, and
t
he
Nassau County Museum of Art in Roslyn, New York, this exhibition is one of the most comprehensive Rockwell tra
veling presentations. All 323 Rockwell

Saturday Evening Post

vintage covers are included, along with original paintings
and studies. The original paintings and studies included in the exhibition span his six-decade long career. There are a number of iconic images rarely seen, and some unpublished, such as
Young Valedictorian
, which will be on display.
Above:
Young Valedictorian
, by Norman Rockwell. oil on canvas, c. 1920
The breadth of Rockwell's story telling talent is best displayed in his
Saturday Evening Post
covers. He captured the emotions of the times, not only that which was, but what people would have liked life to be.
Norman Rockwell: American Imagist
is opening at the the Paine Art Center on
June 3, 2010 , and will open to the public on June 5, and continue through September 26, 2010
. From Wisconsin the exhibition will travel to the Dulwich Picture Gallery in London, England, the UK's oldest art museum, celebrating its 200th Anniversary with Norman Rockwell in a setting with Old Masters.
For more information on the Paine Art Center and their Summer 2010 schedule, please visit
thepaine.org.
For Reservations:

Eric Brocklehurst

National Museum of American Illustration
492 Bellevue Avenue, Newport, RI 02840
T: 401-851-8949 ext. 18. F: 401-851-8974
eric@americanillustration.org
www.americanillustration.org

The Museum is open year-round for visitors and Group Tours by advance reservations. General Admissions Hours begin Memorial Day weekend, May 28, 2010.



General Admissions Hours (May 29th - September 6th)


Fridays: open only for a 90 minute guided tour at 3:00pm

sharp


Saturdays: 11:00am - 4:30pm
Sundays: 11:00am - 4:30pm
Memorial Day, July 4th, & Labor Day: 11:00am - 4:30pm



Tickets:

Adults: $18; Seniors (60+) & Military: $16; Students w/id: $12; Children ages 5 to 12: $8. Children ages 5 to 12 are permitted only if they are vouchsafed by parents or guardians as being 'well-behaved.'



The National Museum of American Illustration is a nonprofit, independent, educational and aesthetic organization. It is located in Newport, RI, on Bellevue Avenue at Vernon Court (1898), a Carrére and Hastings designed Beaux-Arts adaptation of an 18th century French chateau. It is the first national museum devoted exclusively to American illustration art. Illustration consists of original artwork created to be reproduced in books, magazines, newspapers, and advertisements. 'Golden Age' paintings by such luminaries as Norman Rockwell, Maxfield Parrish, NC Wyeth, JC Leyendecker, and 75 others are displayed in 'Gilded Age' architecture, creating a unique union of architecture and art - a national treasure. The Museum is administered by the American Civilization Foundation, a nonprofit organization with the goal to present the best possible venue for appreciating the greatest collection of illustration art -

the most American of American art.





COPYRIGHT NOTICE: This email message and its contents are copyrighted and are our proprietary products. Any unauthorized use, reproduction, or transfer of this message or its contents, in any medium, is strictly prohibited. ©2010 National Museum of American Illustration.