Saturday, May 28th marks the beginning of the our General Admissions Season, concluding on Sunday, September 4, 2011. During this period, the NMAI presents two exciting exhibitions: Norman Rockwell's America....in Newport, and the noted author/illustrator Tom Wolfe's In Our Time.
(l-r): Norman Rockwell's Bridge Game - The Bid, 1948; Norman Rockwell's Doughboy and His Admirers, 1919
Norman Rockwell's America was displayed at Dulwich Picture Gallery, - England's oldest art museum, from December 15, 2010 to March 27, 2011, as one of the main events of Dulwich's 200th Anniversary celebration (1811 - 2011).
At the time of the exhibition's conclusion, Norman Rockwell's America set the record for the second largest exhibition attendance in Dulwich's 200 year history.
London's Saturday Review deemed the exhibition "Completely Exceptional."
The Telegraph described Rockwell's illustrations as "Pure Genius." After the show's installation and opening, Ian Dejardin, Director of Dulwich Picture Gallery, remarked, "I am struck by just how excellent the show is - elegant in conception and perfect in balance and scale. I've said it before, and I say it again - You did us proud."
(l-r): Norman Rockwell's The Sport - Study, 1939; Norman Rockwell's Volunteer Fireman, 1931
Norman Rockwell's America will debut at its first US venue, the NMAI, during our opening on Memorial Day Weekend (May 28th). The exhibition features a remarkable collection of over 50 original works spanning six decades, providing a comprehensive look at Rockwell's career span. His heart-warming depictions of everyday life made him the best-known and most beloved American artist of the 20th century. He lived and worked through some of the most eventful periods in the nation's history, and his paintings vividly chronicled those times.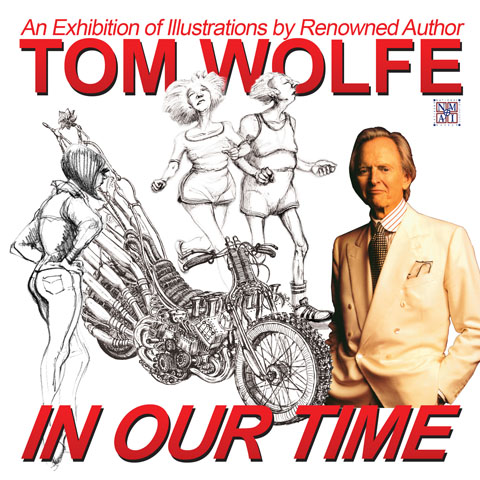 A simultaneous exhibition will show illustration artworks by the noted author Tom Wolfe from his 1980 book, In Our Time. Tom Wolfe is best known for his literary contributions as an award-winning author and journalist, and little known for his accomplished illustrations. This exhibition, which virtually re-discovers Wolfe's unheralded work as an illustrator, continues due to popular demand, having been partially exhibited last season.
Right: Tom Wolfe's The Maternal Instinct, 1980
Tom Wolfe's Artistic Vision, 1980
Wolfe's images offer his audience the same acerbic wit and social critiques for which he is so well known in his distinctive prose. In Our Time's illustrations stem primarily from Wolfe's examination of fluctuating cultural norms of the 1970s, the "Me Decade." Some illustrations are as humorously subtle as Jules Feiffer or Shel Silverstein, others as comically frightening as Charles Addams, while others rank as editorial cartooning comparable to Pat Oliphant and Paul Szep, and still others are thought provoking and timeless visual commentary, yet depicted in a temporal context (as one would expect of this author/illustrator - the critic of his times).
Two selections from Wolfe's Evolution of the Species, 1980
____________________________________________________________________
NMAI'S 2011 SEASON
NMAI's 2011 Season begins May 28 (Memorial Day Weekend) and ends September 4 (Labor Day Weekend). During the Season, the Museum is open Saturdays and Sundays from 11am to 5pm on a General Admission basis. NMAI is open year-round for Guided Tours Fridays at 3pm sharp; all other times for Group Tours or VIP tours by advance reservation.