NORMAN ROCKWELL and his CONTEMPORARIES
A New Exhibition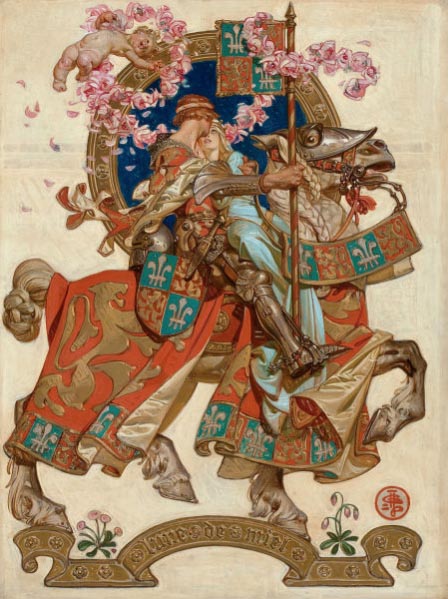 J.C. Leyendecker, Lune De Miel (Honeymoon), 1926 Norman Rockwell, Lunch Break with Knight, 1962
The National Museum of American Illustration (NMAI) announces a Blockbuster exhibition: Norman Rockwell and his Contemporaries. The exhibition debuts Memorial Day Weekend (Thursday, May 22rd, 2014) for the start of our 2014 Summer Season, continuing through Labor Day Weekend (Sunday, August 31st, 2014).
Norman Rockwell (1894-1978) is best known as the premier Artist-Illustrator for the Saturday Evening Post, the most popular magazine of its time. As a result, Rockwell's name became synonymous with aspects of our American lifestyle. Soon thereafter, the adjective "Rockwellian" entered the English language for it best described what this artist characterized so emblematically. Today, Rockwell's depictions of everyday American lifestyles speak to audiences on a global scale due to many travelling exhibitions first organized by our Museum Director Judy Goffman Cutler, across the USA and more recently throughout Europe and Asia.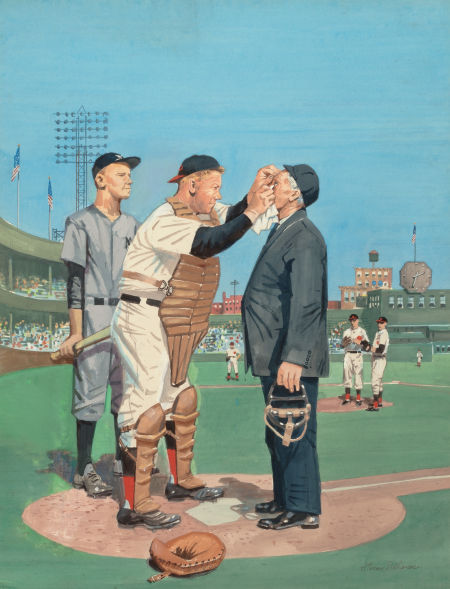 Norman Rockwell, Umpire - Study, 1960 Stevan Dohanos, Umpire with Cinder in Eye
'Norman Rockwell and his Contemporaries' is a thematic exploration of artworks by Rockwell and his peers: those influenced by Rockwell and those who influenced the Master himself. The most noted artist-illustrators of his time were colleagues, classmates, and friends who lived and worked in nearby artist communities: New Rochelle, Greenwich Village, and Westport. Their common purpose was to portray our nation visually and meet its ever-rising demands for more images as publishing was in a transformative phase, with 4 color printing, and new distribution systems expanding capabilities and reaching wider audiences. The illustrators reflected and molded American society by depicting prototypical themes and mores still held dear today. Featured alongside Rockwell are: John Clymer, Steven Dohanos, John Falter, George Hughes, J.F. Kernan, J.C. Leyendecker, Norman Price, and more.
Other exhibitions concurrently on display are: 1). Howard Pyle & His Brandywine Students; 2). The American Muse, a homage to American women of the late 19th and early 20th centuries; 3). illustrations by Mary Jane Begin, from her book My Little Pony: Under the Sparkling Sea commissioned by Hasbro for their My Little Pony series; as well as 4). highlights from NMAI's American Imagist Collection, featuring works by such as Maxfield Parrish and other Golden Age illustrators from our permanent collection.
NMAI's Summer Season hours are: Thursday through Sunday 11am – 5pm beginning May 22nd through August 31st. Guided tours available every Friday at 3pm, other days by reservation, refer to our website for more information. All schedules are subject to change, please do reconfirm.
Norman Rockwell, Charwomen in Theater- Study, 1946 George Hughes, Theater Rehersal with Maid, 1950
For more information and images, contact the NMAI at 401.851.8949 ext. 18, email art@americanillustration.org, or visit our website at www.americanillustration.org.
Rockwell Sets Auction Record for American Art
Norman Rockwell, Saying Grace, 1951
On December 4th, 2013, Norman Rockwell broke the record for an American art auction. The painting, Saying Grace appeared on the cover of the Saturday Evening Post for Thanksgiving in 1951. This painting was owned by the family of Kenneth J Stuart Sr., a close friend of Rockwell and Post art editor. Saying Grace sold for $46,085,000 to a private bidder, nearly tripling the previous record for the artist, and higher than WInslow Homer, John Singer Sargent, Mary Cassatt, and all others in American paintings, except Contempoary artists.
This auction is a win, not only for Rockwell's work, but for illustration art. Once deemed unworthy by art critics, American illustration art is now sought after more than so-called fine art at auctions and for public attention. Another NMAI Illustrator, John Falter, broke the world auction record for his work with his painting, Fifth Avenue, which sold for 10 times its presale estimate. Newfound attention and appreciation is elevating the value of illustration, not just in a monetary form, but in cultural value. The NMAI is pleased to see illustration gaining such headway in the artworld and the eyes of the public, and we are proud of our Museum's role in raising awareness for the cultural importance and artistic merit of American illustration art.
John Falter, Fifth Avenue, 1960
Winter in Full Swing at Vernon Court
Winter is in full swing in Newport, Rhode Island! We have experienced massive amounts of snowfall and winter storms this year. While the snow is beautiful, we are ready to move onwards towards Spring, to see our gardens in full bloom again! The NMAI is open throughout the off-season on Fridays from 11am - 5pm or other times for groups of 6 or more by advance reservation. Please call ahead if snow is in the forecast to check on weather and driving condtions before visiting.
Enjoy Winter Scenes at Vernon Court, So Far...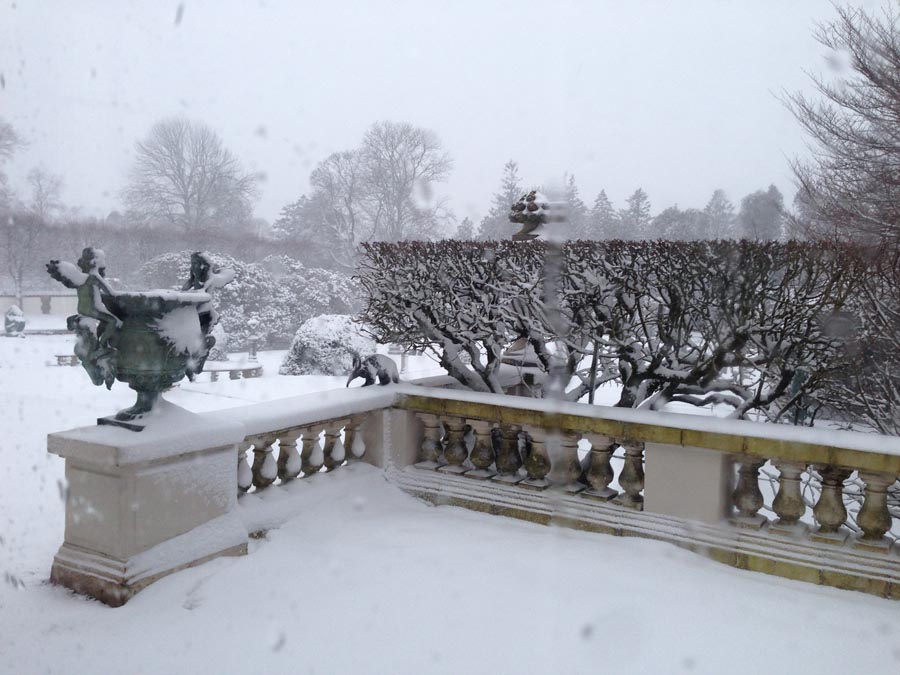 "It was wondeful to see what you have been able to do with the building and the collection of work by American illustrators. The work you are doing to develop the place of illustration in American art history is quite impressive, and I applaud you for it...best wishes on your work in years to come."
- Sheldon Hurst, former curator at the Hyde Collection, January 2014
"My husband stumbled across this museum by way of a website search for American Illustrators. He paid a visit in the summer of 2013 and was so inspired and in awe...that he had [me] and our nine year old daughter come back and visit.... The Collection is so beautiful. We had a wonderful guided tour given to us by Rachel...I would recommend that anyone who has a passion for illustration visit this Museum. It will definitely bring you much delight and open your eyes to what beautiful art was created by some of the world's most renowned illustrators. Even our nine year old daughter was enthralled by the works!"
- "Pamela P", tripadvisor.com, February 2013
"You may come [to Newport] for the mansions or the ocean, but take time to visit this fantastic Museum housing the best American illustrators of our time. Walk among orignal paintings, displayed beautifully in a restored Newport mansion...No where else in America or the world can you see and walk among a combined collection of this magnitude under one roof...Truly a breathtaking experience for all."
- "JockDeb" , tripadvisor.com, December 2013
Continued due to popular demand through Summer 2014! This exhibition features works from Edith Wharton's notable book, Italian Villas and their Gardens, Edison Mazda Calendar works, and extraordinary examples from each phase of Parrish's oeuvre. NMAI has the largest Maxfield Parrish Collection of original artworks extant, including his largest commission, the Florentine Fete murals, 18 paintings each measuring 10ft 6in tall, and his smallest, The Tallwood Pearl, a 1 1/2in landscape scene on a Mother of Pearl Button.

Mary Jane Begin's new book My Little Pony: Under the Sparkling Sea, as the title suggests, is a My Little Pony story with an aquatic theme. Her bold and intense use of colors in the underwater environment and nuanced depictions of the facial expressions convey the characters' wonderment at the strange and new world they experience. Illustrations from this book are now on display for viewing and for sale in the Lower Level galleries to benefit the NMAI.

Continuing for the 2014 Summer Season, this exhibition features the illustrative works of Charles Dana Gibson, Harrison Fisher, Howard Chandler Christy, Walter Granville Smith, James Montgomery Flagg, Albert Beck Wenzell, and others of their Gilded Age Illustrator colleagues, each demonstrating their own particular notion of the Classic American female Beauties from the Gilded Age.

Earning him the nickname the 'Father of American Illustration', Howard Pyle started the first school for American Illustration in 1900 named the Howard Pyle School of Illustration Art, at Drexel Institute in Philadelphia, later known as The Brandywine School. This exhibition features this Master's work, as well as some of his best known students including N.C. Wyeth, Frank Schoonover, Violet Oakley and many others.
Admission: Off Season Hours (thru Memorial Day 2014):
Adults: $18 Fridays: 11am - 5pm
Seniors (60+)/Military: $16
Groups (6 Visitors or more): $15
Students: $12
Children 5 to 12 yrs: $8
*Children under 5 not admitted
(Guided Tours and additional hours available at other times by appointment for groups of 6 persons or more. Ring: 401.8851.8949 ext. 18 for more information)
The National Museum of American Illustration is a nonprofit, independent, educational and aesthetic organization. It is located in Newport, RI on Bellevue Avenue at Vernon Court (1898), a Carrere and Hastings designed Beaux-Arts adaptation of an 18th century French chateau. It is the first national museum devoted exclusively to American Illustration art. Illustration consists of original artwork created to be reproduced in books, magazines, newspapers, and advertisements. "Golden Age" paintings by such luminaries as Norman Rockwell, Maxfield Parrish, NC Wyeth, JC Leyendecker, and 150 others are displayed in "Gilded Age" architecture, creating a unique union of architecture and art - a national treasure. The Museum is administered by the American Civilization Foundation, a nonprofit organization with the goal to present the best possible venue for appreciating the greatest collection of illustration art - the most American of American art.
Contact Us:
National Museum of American Illustration
492 Bellevue Avenue, Newport RI, 02840
T: 401-851-8949 F: 401-851-8974
art@americanillustration.org
www.americanillustration.org
COPYRIGHT NOTICE: This email message and its contents are copyrighted and are our proprietary products. Any unauthorized use, reproduction, or transfer of this message or its contents, in any medium, is strictly prohibited.