NMAI ROCKWELL EXHIBITION NAMED LONDON'S BEST
ART EXHIBITION OF 2011

The American Spectator magazine named the NMAI's Norman Rockwell's America exhibition - at London's Dulwich Picture Gallery as part of Dulwich's 200th Anniversary Celebration - to be London's best art exhibition of the year for 2011! The exhibition drew record-setting attendance numbers as the first ever exhibition of Rockwell's original artworks in the UK, and is now on display at the NMAI in Newport under the title Norman Rockwell: American Imagist.
In American Spectator's December/January issue, English journalist, historian, and author Paul Johnson expounds upon the merits of Rockwell's work in naming the exhibition London's best. Rockwell's work "does not need any explaining, [or] justifying," rather it is "the most sustained and successful exercise in social realism in the whole history of art, remarkable alike for superb craftsmanship, unflinching honesty, and invariable consistency."
Johnson identifies the plainspoken-ness of Rockwell's work as the source of much of his popularity with the public during his career, and consequently his historical unpopularity with many critics from the fine-arts establishment. "Of course the art critics hated him . . . He left them with no function to perform. He spoke directly to the public."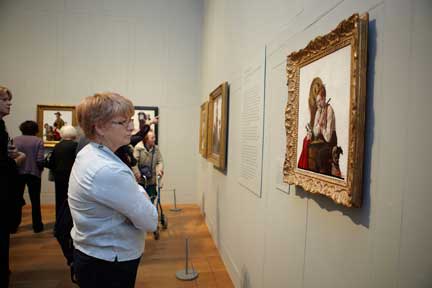 In today's trying times, often characterized by social and political turmoil and doubt, Rockwell's portrayal of "an America which was democratic, freedom-loving, egalitarian, enterprising, and dynamic... sure of itself and its aim" and that "believed in its destiny" holds great appeal to modern audiences. "He is as popular now as ever."
The exhibition is presently viewable at its home setting in Newport during the NMAI's standard winter hours, Fridays 2pm to 5pm with a guided tour at 3pm sharp, and for guided group tours of 8 visitors or more and VIP tours by advance reservation. Additionally, as part of Newport's Winter Festival, we will be open for general admissions on February 17, 18, 19, and 24, from 11am to 5pm.
To read the full text of the American Spectator article, please click here.
NMAI FEATURED
CARRERE & HASTINGS:
THE MASTERWORKS
NEW BOOK RELEASED!
Rizzoli Publishing recently released Carrere & Hastings: The Masterworks, the definitive volume on celebrated Gilded Age architects John Carrere and Thomas Hastings, designers of NMAI's venue Vernon Court. The authors write that the "impeccably restored" Vernon Court "easily ranks among the very best works of Carrere & Hastings" cited in this book of their 27 most notable buildings, including: Henry Morrison Flagler's Palm Beach art museum, Whitehall; art collector Ronald Lauder's Neue Galerie; the New York Public Library (America's most acclaimed Beaux Arts building); the Ponce de Leon Hotel (Flagler College); Henry Clay Frick's New York mansion (The Frick Collection), Alfred I. duPont's mansion Nemours, and others.
The book is written by Dr. Laurie Ossman (director of the Woodlawn Plantation and Pope-Leighey House and author of Great Houses of the South; and Heather Ewing, architectural historian, Smithsonian research associate, and co-author of The Castle: An Illustrated History of the Smithsonian Building, and The Lost World of James Smithson: Science, Revolution, and the Birth of the Smithsonian. The photography is by Steven Brooke, recipient of the Rome Prize, the American Institute for Architects' International Book Award, National Institute Honor Award in Photography, and photographer for numerous architecture books published by Rizzoli, Pelican, Yale University Press, and others.
The NMAI's Vernon Court is featured on pages 128 through 143. For fans of distinguished Gilded Age architecture and the NMAI alike, the book is available in our gift shop ($75.00) along with many other illustration themed books and gifts. Please call 401-851-8949 to place a book order. To see other items available from our gift shop,

click here.
Photos © Steven Brooke, Carrere and Hastings, by Laurie Ossman, Rizzoli New York, 2011
NMAI CO-SPONSORS ILLUSTRATION CONFERENCE

The NMAI is a co-sponsor for the ICON7 Illustration Conference. Other sponsors include the Rhode Island School of Design and the Society of Illustrators.
The 7th Bi-Annual Icon Conference will take place June 13-16, 2012, in Providence RI in the historic Vets Memorial Auditorium, located next door to the Renaissance Hotel. The conference is a not-for-profit, unique global event created over the years to inspire and invigorate the illustration community. Since the very first conference in 1999, ICON has played an important role in enriching the diverse community of illustrators and other professional picture makers. Showcasing today's popular and up-and-coming illustrators, designers, art directors and visual thinkers, ICON 7 is full of content, including presentations, hands-on workshops, exhibitions, and networking events over a four day period.
ICON7 is a highly anticipated event for the illustration industry.
ICON7 delivers more than 500 illustrators, educators, students, creative professionals and over 50 speakers - representing the brightest minds from all related fields including publishing, advertising, galleries, film, animation, fashion design, retail, and education. For more information on ICON7, please click here.